Connect everyday people with a smile
#DiscoHelmetTO Project's aim to connect everyday people with a smile, while cutting through the veil of electronic distractions that surround us. We can consciously choose to make technology visible or transparent and by doing so out of choice, we empower and bring ourselves into the present moment. The project creates an experience for the audience to develop ideas and explore their inner selves. The presence of the artist wearing the helmet with an air of radical honesty and sincerity adds to the aesthetics. Nothing says tackling the urban jungle while living in the city like a disco helmet!
An impromptu interview with Avery Haines (@CityAvery) from CityTV in Toronto
On my way home frm @CityNews I stopped this stranger+had no idea I was playing into his master plan. #DiscoHelmetTO pic.twitter.com/WcFlNjJqOA

— Avery Haines (@CityAvery) July 26, 2016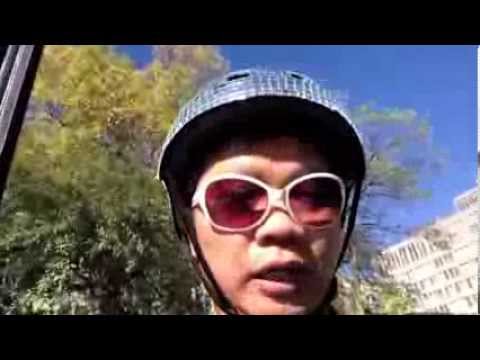 Want to support our work in making you and the people around you "awesome,", please make a donation via paypal. To donate follow this link:
#DiscoHelmetTO, #DiscoHelmet, #KarmaNinja ,#1000Kindness, #1000ActsofKindness
DIY Instruction
[portfolio_slideshow id=6174]
Tweets about DiscoHelmetTO%20OR%20DiscoHelmet
[portfolio_slideshow id=6174]
The artist:
Adam Quang is an interdisciplinary artist whose work explores human nature and plausibility in contemporary society; pieces that stroke the visual and tactile senses, that touch the heart, and hinge on the duality of his life spent in Asia and North America. In a mass market versus mass marketing framework, Adam's art stirs our imagination through image and metaphor, shadow and hidden meaning within. He provokes action from the viewer and invites them to be part of the evolving art. He is the founder of  World Karma Project. Its mission is to make you and the people around you "awesome." Adam currently lives in Toronto Canada.
Click here for artist statement
Comments
comments