Jul 17, 2012
For immediate release
Thousand years in 14 days
Rejuvenate & Forever Young

Adventure Yoga Retreat
Tao Porchon Lynch-photo by Robert Sturman

The latest Do Better Project takes place at the New Seven Wonders of Nature from Nov.18 to Dec.1, 2012, in Ha Long Bay, Vietnam, with the oldest yoga teacher in the Guinness Book of Records 2012, Tao Porchon-Lynch.

For two weeks, visitors will experience a Vietnamese culinary journey, adventure, and practice with the oldest living yoga teacher who joyfully shares her wisdom. You will travel through UNESCO World Heritage sites on a dragon boat, and stay in 4-5 star accommodations. Participants can register with the Yoga Alliance and receive 35 continuing education training hours from the retreat.
click here for detail itinerary…

All double-bookings with full payment, from July 17th to August 17th, will be 

entered into a draw for a chance to win $4500.
Tao Porchon-Lynch E-RYT 500: At 94 year old, Tao exemplifies the positive "can-do spirit" that can accomplish anything. Growing up in India with French origin, Tao knew Mohandas Gandhi personally. She was also on "The Peace Within Panel" with the Dalai Lama, Deepak Chopra and many other Nobel winners. Tao believes that following the principles of yoga both heals and rejuvenates. (more…)
Adam Quang E-RYT 500: The founder of World Karma Project, an energetic and easy-going fellow, known for his wisdom and compassion. A registered yoga instructor with Yoga Alliance E-RYT 500 master level. (more…)
The tour The tour costs $4,500 CAD (+HST) and covers all expenses, excluding airfare. The fee also helps build better communities, as a portion of the costs will provide a Vietnamese child with school tuition for a year.
click here for detail  itinerary…
World Karma Projects include buying cold drinks for the homeless during a heat wave, offering free yoga lessons in the park (Canada, Vietnam, Brazil), building a road in Vietnam, and raising money for a shelter that provides assistance to girls 12-18 years old who are at-risk or victims of sexual abuse, trafficking or labour exploitation in Vietnam.
World Karma Project / Tao Porchon-Lynch have been featured: CBC, BBC, CNN, Tao and the Dali Lama, Yahoo News, Good Day NY, Asian Fusion Magazine NYC, Fab Magazine, Toronto Sun, TV9 News, Huffington Post…
—-30—–
If you would like to know more about World Karma Project
Please contact Adam Quang: info (at) worldkarmaproject.com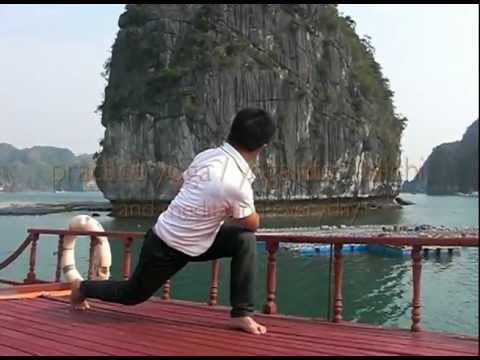 Why Ha Long Bay?

Because of a profound spiritual experience described by Adam: "When kayaking on the bay, the sky ablaze with pinks and blues as the sun dips into the sea, a junk boat sails into view. Enveloped by mountains towering over the bay, it's a dream-like scene of startling beauty. My breath deepens and my senses expand. My hand drifts into the water and I am refreshed, more truly myself than at any other time. I let go of the boundaries that define me. Everything is vivid: the smell of the ocean, the rhythm of the waves, the warmth of the sun. I am small within this vastness, yet connected at the same time. It is a perfect moment that produces a revelation: lead others to this place which opens the soul to the world outside, and to the world within."
Comments
comments